Korea ranks first in UN's e-government index
Mar 08, 2012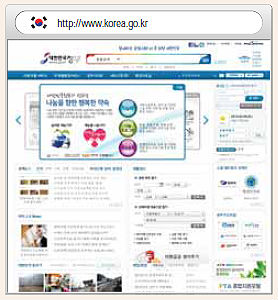 Korea ranked atop the E-Government Survey 2012 drawn up by the United Nations Public Administration Network (UNPAN), for the second consecutive time, consolidating its momentum as the world leader in the realm of public domain.
According to the E-Government Survey 2012, released on February 28, the Korean government received the highest scores on both the E-Government Development Index and the E-Participation Index, out of some 190 nations covered in the latest survey.
The report pinpointed a key reason for Korea's continued leadership as being the significant development and provision of cross-sector mobile applications downloadable on the nation's integrated portal, which provides a gateway to services through multiple channels as well as a "powerful search engine."
The biannual UN Global E-Government Survey was introduced in 2003 to provide an unbiased overview of the state of e-government development worldwide in the context of the overall level of progress and readiness of technological and telecommunications infrastructure, among other factors such as human resource development. The framework is also aimed at encouraging digitization and increased national competitiveness among member states.
For the 2012 edition of the E-Government Development Index, the Netherlands (second), UK (third), and Denmark (fourth) joined Korea among the top ranks, and the U.S. came in at fifth. For the E-Participation Index, Korea ranked first with Netherlands followed by Singapore, Kazakhstan (tied for second), and the U.S. and UK (tied for third).
UNPAN analyzed the extent of service delivery in top performers in four stages, emerging, enhanced, transactional, and networked. Korea marked the highest overall score of 87% utilization in evaluation of the last stage, networked.
The Ministry of Public Administration and Security announced in a statement on March 1 that the Lee Myung-bak Administration's continued investment and efforts in pursuing smart e-government initiatives, geared towards the digitalization of the government system, have been reflected successfully on an objective indicator.
"Korea's marking the first place in the recent ranking is an occasion to celebrate as the world once again recognizes the excellence of our e-government system," said Public Administration and Security Minister Maeng Hyung-kyu. "We expect this event will add vigor to the exports of Korea's e-government system abroad, in line with our goal of the USD 300-million mark this year, as well as reaching the 2.5-billion target in the five years to come.
"The ministry strives to reinforce the relevant policy cooperation and promotion both at home and abroad, while also expanding official development assistance in this regard," he added.
To read the full report, click here:
http://unpan1.un.org/intradoc/groups/public/documents/un/unpan048065.pdf
By Hwang Dana
Korea.net Staff Writer
Featured Topics
http://www.korea.net/NewsFocus/Policies/view?articleId=99175
URL Copy
Department Global Communication and Contents Division, Contact Us