Korean Cultural Center opens in Turkish capital
Oct 14, 2011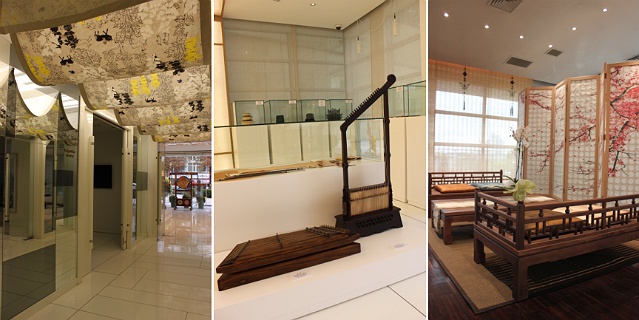 The first Korean Cultural Center in Turkey opened its doors in Ankara on October 13 (Photo courtesy of the Ministry of Culture, Sports and Tourism).
In the Turkish capital of Ankara, the Korean Cultural Center opened its doors to the public on October 13.
The opening ceremony featured an array of celebratory performances ranging from traditional Korean music to a Taekwondo demonstration, followed by a reception serving authentic Korean food. Nearly 200 people came out to celebrate the opening and enjoy an evening of music and gastronomic delights, which was also attended by Director Seo Kang-soo of the Korean Culture and Information Service, Turkish Minister of Culture Ertuğrul Günay, and Turkish Minister of Youth and Sports Suat Kılıç.
Located in the heart of the capital, the newly opened Korean Cultural Center will serve the general public and promote the already-solid bilateral friendship. The center has it all, providing information services and support for those interested in learning more about Korea, holding diverse facilities from an indoor training room for Taekwondo to a cutting-edge multimedia lounge. Its exhibition halls and multi-purpose auditorium will host a variety of cultural events, including a K-pop contest slated for November 26, art showcases, as well as Korean film screenings. The cultural center will also run a buddy program, providing social and cultural events for Korean exchange students who are interested in making local friends.
Turkey is also home to two branches -- one in Ankara and the other in Istanbul -- of the state-run King Sejong Institute (
www.sejonghakdang.org
), which has led Korean language education worldwide.
Since the opening of the first Korean Cultural Center in Tokyo in 1979, Korean Cultural and Information Service Centers have been connecting Korea with the outside world. The network of Korean Cultural Centers now reaches as far as Asia, Europe, North and South America, and Africa. This year alone, the Ministry of Culture, Sports and Tourism opened five new cultural centers in Australia in April, Spain in June, Indonesia and the Philippines in July, and finally Turkey this month. As of today, there are 21 Korean Cultural Centers in 17 countries. The Culture Ministry seeks to further extend its network, paving the way for active cultural exchanges across the globe.
In conjunction with the opening, the Korean Cultural Center in Turkey is currently holding a Korean Culture Week until October 22, offering a wide range of programs and events, including Korean dance and music performances, a symposium on Korean literature, and a photography exhibit. For more information, please visit the official website at:
http://tr.korean-culture.org
(Turkish). Or if you are in Turkey, you can find the Korean Cultural Center at Paris Caddesi No. 74, Kavaklidere.
By Hwang Dana
Korea.net Staff Writer
Featured Topics
http://www.korea.net/NewsFocus/Policies/view?articleId=99457
URL Copy
Department Global Communication and Contents Division, Contact Us