Climate and Environment Pavilion praised by experts
Jun 05, 2012
The Climate and Environment Pavilion at Expo 2012 Yeosu Korea, one of the Expo's most popular offerings, has received acclaim from experts for its unique and effective presentation of pressing climate issues.
"The Climate and Environment Pavilion is the best and most meaningful of the Expo pavilions," said Dr. Gretta Pecl of the University of Tasmania's Institute for Marine and Antarctic Studies. Pecl, together with twelve other climate-change experts, toured the pavilion during a visit to the Expo to attend an onsite international symposium on climate change on May 17.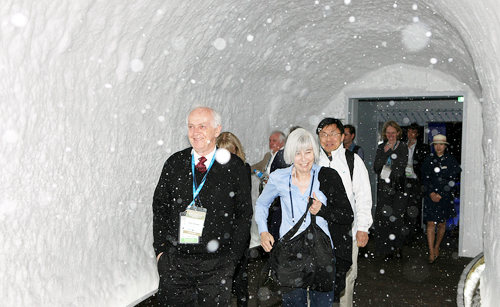 One of five sub-theme pavilions on Expo grounds, the Climate and Environment Pavilion features a walk through a blizzard tunnel where visitors can experience the extreme climates of the Arctic. The tunnel includes ice ledges that act as screens for video footage of polar bears in their natural habitats.
The next part of the tour leads into the multi-channel integrated media multiplex, where video screens along the wall and on the ceiling depict the threat that global warming and greenhouse gas emissions pose to the environment.
"The realistic blizzard experience and the story about the polar bears bring to life the issues of climate change," continued Pecl.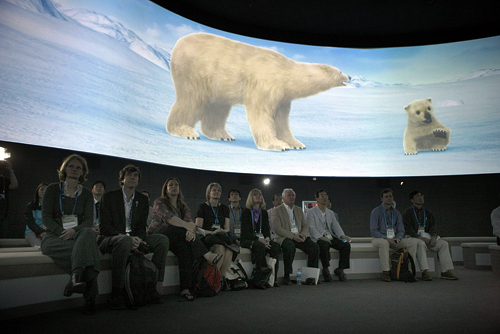 The pavilion was designed around the theme of "The Ocean, the Moderator of the Environmental Changes on Earth," in order to raise awareness of the seriousness of climate change and its consequences.
"Inasmuch as humans are the cause of environmental degradation, they can also become the solution," said Luis Valdes, head of Ocean Sciences at the Intergovernmental Oceanographic Commission of UNESCO. "The Climate and Environment Pavilion gives a clear presentation of the links between climate change, the ocean, and humankind."
As a group, the 13 experts commended the designers of the pavilion for creating a presentation that clearly and effectively illustrates the problems of climate change and moves beyond pointing out the issues to suggesting solutions.
The Expo will run until August 12 at Yeosu New Port. More information can be found at
http://eng.expo2012.kr/main.html
.
By Kwon Jungyun
Korea.net Staff Writer
Featured Topics
http://www.korea.net/NewsFocus/Sci-Tech/view?articleId=100590
URL Copy
Department Global Communication and Contents Division, Contact Us