High-speed wireless network to go live at Dokdo
Jun 13, 2012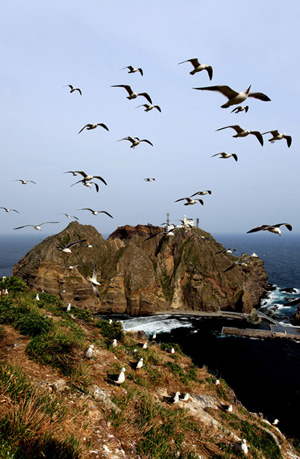 An LTE network will be in operation at Dokdo (pictured) and Ulleungdo by the end of 2012 (photo courtesy of Ulleung County).
By the end of 2012, visitors to Korea's easternmost islands of Dokdo and Ulleungdo will be able to enjoy the ocean air and coastal views without losing any connectivity on their phones and smart devices.
Dokdo and Ulleungdo are lined up to become the newest additions to the nationwide high-speed wireless network, as announced by the Ulleung County Office on June 6.
Prior to the announcement, an MOU had been finalized with telecommunications service provider SK Telecom and Internet provider SK Broadband for the implementation of the islands' ubiquitous networking technologies.
After the completion of the network, which will include the latest 4G LTE technology, people on Dokdo and Ulleungdo will be able to freely operate landlines as well as mobile phones at anytime from anywhere on the islands.
Ulleungdo has been equipped with high-speed Internet since February, and completion of the LTE network is scheduled for the end of the year.
In addition to the new networking services, island residents will now be able to purchase mobile phones and service subscriptions onsite instead of having to travel to service centers on the mainland.
"The new networks will help to encourage the development of eco-tourism and green travel to the islands," said an Ulleung County spokesperson.
More information on Dokdo can be found at
http://en.dokdo.go.kr/index.do
as well as in the National Affairs section of the Korea.net Current Affairs menu (
http://www.korea.net/Government/Current-Affairs/National-Affairs?affairId=83
).
By Kwon Jungyun
Korea.net Staff Writer
Featured Topics
http://www.korea.net/NewsFocus/Sci-Tech/view?articleId=100715
URL Copy
Department Global Communication and Contents Division, Contact Us