Korea, Indonesia join forces to preserve mangroves
Jul 15, 2013
The
Korea Forest Service
(KFS) helped plant mangroves on its test plantation in Kapuk, North Jakarta, on July 4 to combat the effects of tsunamis.
Mangrove forests grow where saltwater from the ocean meets freshwater from a river. The two nations are working together to increase the survival of the plants by planting bamboo weirs in the water, filled with organic fertilizers.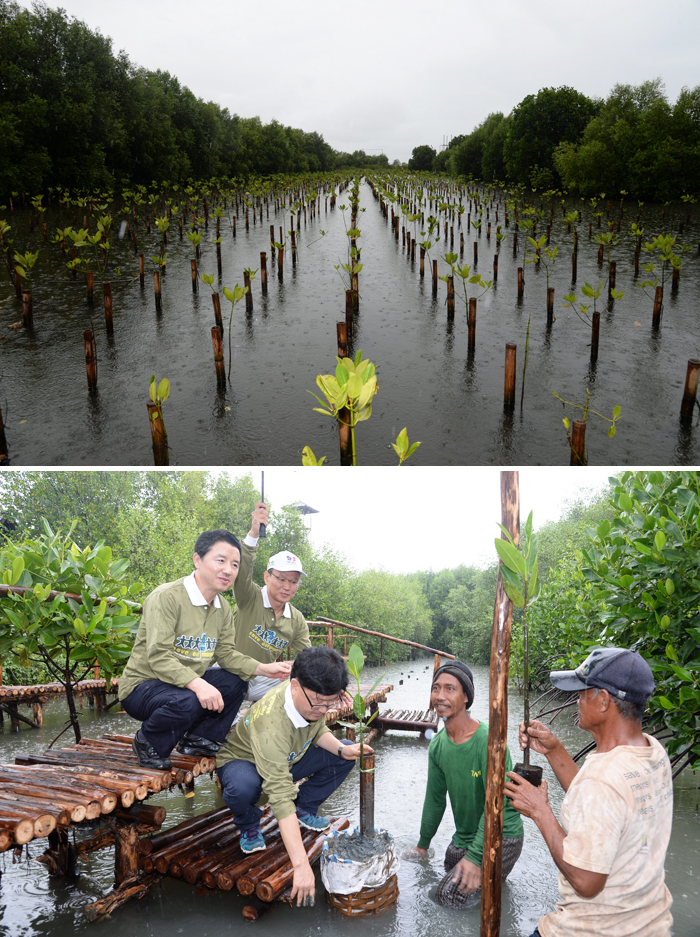 The KFS has been involved in the restoration project of 550 hectares of Indonesia's mangroves since March 2006. The Aceh region on Sumatra Island is still struggling with the damage from the
2004 tsunami
that resulted in the loss of more than 300,000 lives as well as property.
Pledging to deepen cooperation, the two sides hosted the 21st Korea-Indonesia Forestry Cooperative Committee and the 7th Forest Forum in Jakarta from July 4 to 5. On the sidelines of the event, Minister Shin held a talk with Zulkifli Hasan, SE MM, of Indonesia's Ministry of Forestry, about ways to strengthen their restoration efforts for 500,000 hectares of mangroves and 200,000 hectares of biomass.
On July 4, the two nations held an opening ceremony for Hambalang Green Partnership Model Forest (630 hectares) initiated in 2011 and promised to join forces to promote ecological education, operate
forest welfare systems
for different stages of life, and contribute to job creation in the region.
By Wi Tack-whan, Lee Seung-ah
Korea.net Staff Writers
whan23@korea.kr
Department Global Communication and Contents Division, Contact Us