U.S. veteran reunited with the girl he saved
Apr 04, 2013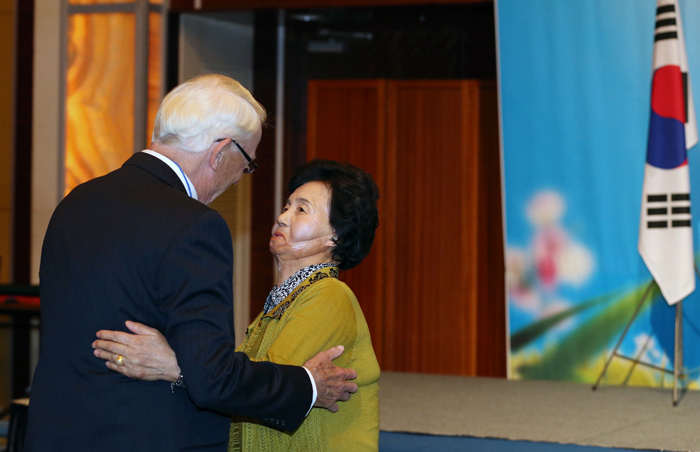 An elderly American man said repeatedly, "Dreams come true," as he hugged a woman with burn scars on her face, grabbing her hands tightly.
"I would not be here if it weren't for his help," the woman also repeated, trying to fight back tears.
On April 1, Richard Cadwallader was reunited with "the girl" who he helped 60 years ago during the Korean War.
Kim Yeon-soon, who at 12 years old was severely burned in an accident in 1953, had refused to be photographed, but that day she smiled with her U.S. father before the camera shutters.
Their first meeting dates back exactly 60 years ago, when the Korean War (1950-1953) was nearing its end.
Mr. Cadwallader, then a U.S. soldier who served in the 8th Communications Squadron of the United States Air Force in Suwon, Gyeonggi-do (Gyeonggi Province), heard knocks on his Quonset hut on a cold winter day. He opened the door to find a mother pleading for him to help her twelve-year-old daughter who suffered third-degree burns from her chin all the way down to her waist.
Realizing that the girl was in dire need of medical treatment, he helped her receive first aid and had her flown by helicopter to a military hospital located in Busan.
"Mr. Cadwallader visited me every weekend and bought me sweets on every visit while I was being treated in hospital," Kim recalled. "At that time, I called him 'American dad.' I should have found him first before he did that. There is no way to express how happy I am now."
She also said that she vividly remembered the warmth he had shown to her as if it had happened yesterday.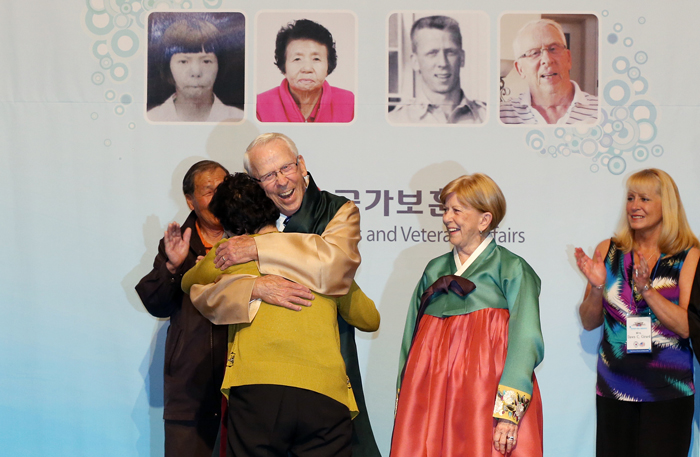 Cadwallader, who says that he has never forgotten the girl and wanted to see her all the years, sent a letter to
the Ministry of Patriots and Veterans Affairs (MPVA)
asking to find the girl whose full name he didn't recall. After a long search, the MPVA finally located her and found out that she still lived where she had 60 years ago.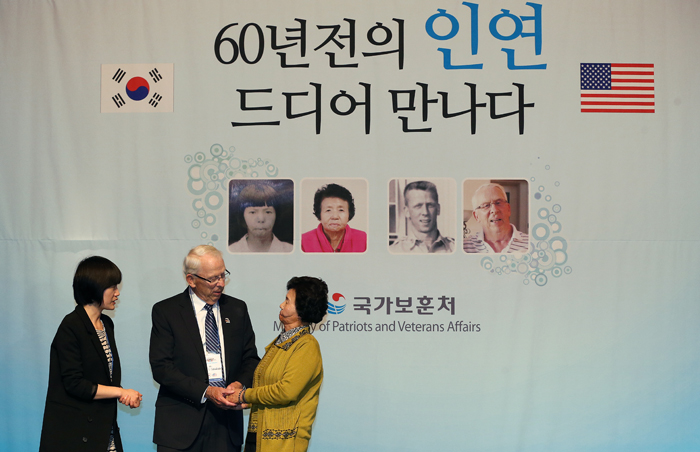 "She and her mother are two examples of the most courageous people I've ever known," said Cadwallader. "This is a monumental day for me and I am very happy."
He also expressed his sincere appreciation, saying, "I am very grateful for everything the MPVA has done to locate her, even though they didn't have any clue of her name or address."
Kim helped the Cadwalladers try on the traditional Korean Hanbok she had prepared in gratitude for his help, while her "American dad" gave her a watch as a symbol of the last 60 years he had held onto his memories of her.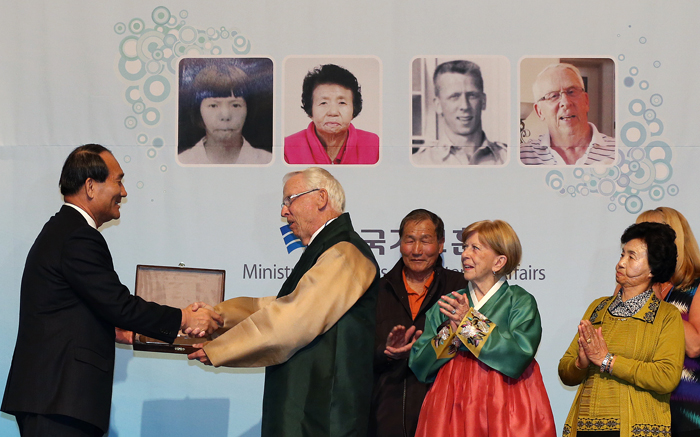 "Taking this opportunity, the MPVA will expand its campaign to help 21 UN allied nations' Korean War veterans reunite with Korean friends with whom they shared experiences during the Korean War," said Director General Park Jong-wang of the MPVA Veterans Policy Bureau.
"There will be a big reunion event this July to mark the 60th anniversary of the armistice agreement of the Korean War," he added.
By Sohn Ji-ae, Jeon Han
jiae5853@korea.kr
Department Global Communication and Contents Division, Contact Us