Books on President Park win popularity in China
Apr 16, 2013
Books on President Park Geun-hye are winning popularity in China, reflecting a high interest among Chinese readers in Korea's new leader.
China's Renmin Press (人民出版社) reported on April 10 that all 10,000 copies of the first edition of President Park Geun-hye's biography, titled "Despair creates hope: the life of Park Geun-hye" (unofficial translation), sold out within 15 days since its first release. To reflect the popularity of the book, the publisher said it has printed 8,000 additional copies of the book.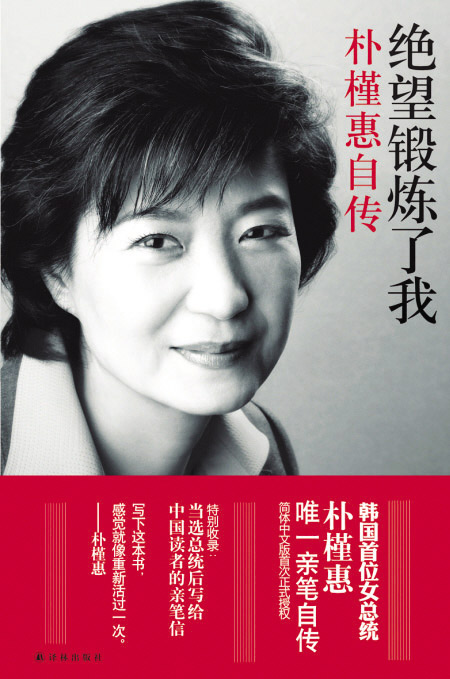 This book is a Chinese translation of an original Korean book "The Life of Park Geun-hye" written by Korean writer Kim Byeong-won in 2012. The first edition of the Chinese version was released in China on March 15.
The book remained on top of the bestsellers list for the section of new books on politics and politicians on Dang Dang (當當網), China's largest online book shop in China, from its March 15 release until April 10.
Another book related to President Park is also winning popularity; a Chinese version of President Park's biography titled "A Woman Married to Korea" (unofficial translation) written by Kang Yo-sik is ranked second on the list of new books of the leading online bookseller, according to the
Korean Cultural Center in Beijing
.
Last November, Taiwan-based publisher Gao Bao (高寶書版) released a Chinese-language version of President Park's autobiography "Steeled by Despair, Motivated by Hope," which received renewed attention from the Taiwanese media following her inauguration.
The Hong Kong Economic Journal introduced the book in its weekend edition titled "Towards an era of Park Geun-hye" (unofficial translation) dated on March 1.
The Chinese-language daily published a report about the life story of President Park and her administrative philosophy along with related photos. "President Park Geun-hye has become the first woman leader in Northeast Asia," the journal said.
"The era of President Park will hold not only a symbolic meaning in gender politics but also open a new chapter of politics led by a female leader despite the critical situation in the Northeast Asian region."
By Yoon Sojung
arete@korea.kr
Department Global Communication and Contents Division, Contact Us