Pentagon opens Korean War exhibition
Jun 21, 2013
The Korean War (1950-1953) is often called "Forgotten War" in the United States. The war took place between two more well-known wars -- World War II (1939-1945) and the Vietnam War (1955-1975) -- and has been largely overshadowed by them.
Some 38,000 Americans died fighting the three-year Korean War. Considering that 55,000 Americans were killed during the eight-year-long Vietnam War, the Korean War was also certainly very fierce.
This year is the 60th anniversary of the armistice (July 27, 1953) that ended the war and brought peace to the Korean Peninsula. As part of the anniversary, a permanent exhibition dedicated to the Korean War opened at the Pentagon in Washington, D.C.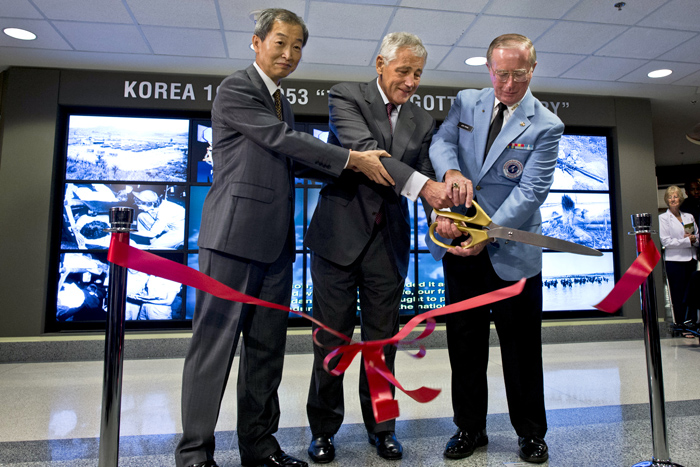 A celebration to mark the opening of the exhibition was held on June 18, attended by Defense Secretary Chuck Hagel and
Korean Ambassador
to the U.S. Ahn Ho-young, and 30 white-haired war veterans. The exhibition hall was built for USD 500,000 by the American federal government.
"The Korean War has been known in this country too long as 'The Forgotten War,'" said Ahn in a congratulatory speech. "We should change it to 'The Forgotten Victory.'"
In response, Hagel said in his speech, "I know of no other nation that has done as much in such a little bit of time to improve their people and the region. I know of no country [that is] a better ally to the United States than the Republic of Korea."
The defense secretary reminisced of his father who was almost deployed to Korea during the war.
"I was living in a small town in northern Nebraska at the time," recalled Hagel. "My father was a World War II veteran. He had been called up to redeploy and I remember vividly at the bus station when my grandmother, my grandfather, my mother, and two of my younger brothers and I took my father to the bus station where he got on that bus to Omaha to process, to Lackland Air Force Base -- he had been in the Army Air Corps. He was there for a few months, he never did deploy -- by then the war was winding down."
The exhibition is located on the first floor of the Pentagon's "A" Ring, one of the busiest places in the building. A banner reading "The Forgotten Victory" hangs at the entrance to the exhibition, which is composed of a collection of photographs, videos, weapons, uniforms, and other artifacts of the war.
By Limb Jae-un
Korea.net Staff Writer
jun2@korea.kr
Featured Topics
http://www.korea.net/NewsFocus/Society/view?articleId=109300
URL Copy
Department Global Communication and Contents Division, Contact Us