National Museum of Korea to head ASEMUS
Sep 24, 2010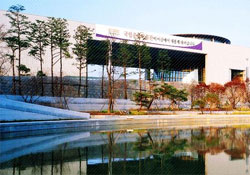 The National Museum of Korea (NMK) was appointed to head the committee for the Asia-Europe Museum Network (ASEMUS) from 2011 to 2014. NMK revealed last Wednesday (September 15) that the decision was made at the ASEMUS General Conference, held at Quai Branly Museum in Paris from Sept. 8 to 10.

The museum will assume its duties starting September next year.

NMK said it believes the latest honor is due to recognition of the museum's successful commemorative programs to celebrate the 100th anniversary of the founding of modern Korean museums, its active participation in the activities of the International Council of Museums (ICOM), and joining the Virtual Collection of Masterpieces (VCM) project as one of the leading Asian partners.

ASEMUS was founded in 2000 as an international consulting body of museums with nearly 70 member museums from 31 nations in Asia and Europe. The executive committee takes the lead in planning and implementing various academic and international projects and receives financial assistance from Asia-Europe Foundation (ASEF), which is based in Singapore.

Meanwhile, during the General Conference in Paris, NMK Director Choe Kwang-sik presented his findings on the present status of Korean cultural artifacts overseas, the museum's operation of Korean galleries overseas, and a blueprint for future exhibitions.

By Kim Hee-sung
Korea.net Staff Writer

Department Global Communication and Contents Division, Contact Us