Rediscovering the joys of market day
Apr 02, 2012
In the neighborhood around Ilsan Station in Goyang City sits Ilsanjang, a 100-year-old market that dates back to the Joseon Dynasty. Known then as Sapojang, the market featured prominently in the local landscape and was well known for opening only on dates ending with three or eight.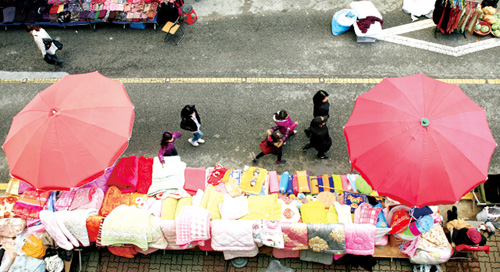 Sapojang disappeared until sometime around 1908, when easier freight transport facilitated by the opening of the Gyeongui Line enabled transformation of the old market space into today's Ilsanjang. One of the city's five largest markets, Ilsanjang stretches from Ilsan Station to the busy intersection nearby, with modernized booths of varying sizes and shapes placed in between.
From agricultural products and clothes to convenience goods and daily necessities, the various stalls that line Ilsanjang offer a wide selection of goods.

A man who looks late in his years rides along the street, selling Korean national flags from his bike. Nearby, another vendor has lined his stall with his unique wares, namely insecticide and mothballs, while his neighbors display an array of small pets, including rabbits and dogs. The scene, though lively, evokes a sense of nostalgia for slowly fading traditions.
Coming out from Exit 2 of Ilsan Station, visitors are welcomed by the noise of exciting melodies that lead them into the crowded market center.
Vendor Jung Chang-ik travels regularly to most of the traditional markets in the region, visiting Munsanjang in Paju on the first of the month, Ganghwajang in Ganghwa County, Incheon, on the second, Ilsanjang on the third, Gwangjeokjang in Yangju on the fourth, and Jeoksungjang in Paju on the fifth. It has been three years since he began making his rounds, and today, like every day, he awaits his lucky break.
In the meantime, he entertains his regular customers, older people who often visit his stalls for his signature ironware. He welcomes them, asking, ''Are your purchases working properly?'' They are the reason he continues his work, even when his dream of a windfall seems far away.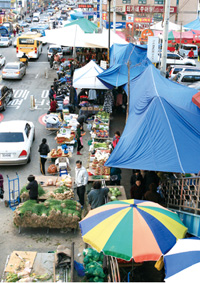 Every corner of the place is thronged with people. The vendors at the fruit and fish booth located in the center of the market show off their sales skills, trained over years and years of reeling in potential customers.
For 50-year-old craft vendor Lee Du-seon, it's been well over 20 years since he started making his rounds in Ilsanjang. Today, as on every other market day, he displays his handmade pungmul instruments inside his truck and offers energetic greetings to the people passing by.
"Sometimes we sell a lot, sometimes we sell a little," he admits. "Some people do well, other people won't do as well. Sometimes it feels like we're just falling and stumbling to keep up. But here, in the market, is where life feels real -- real people living real lives. That's why it's special."
Lee, who has kept shop on market days since his early 20s, remarks that business has been especially slow recently. "Even though it hasn't been as lively and exciting as before, we weren't really struggling. These days, though, business is tough."
At that moment, the loud "pop!" of freshly pressed rice crackers rings throughout the market. Nearby shoppers stop in their tracks, and young children clap their hands to their ears in surprise, their eyes searching curiously for the source of the noise.
"It makes me happy to stroll through the market, my mind full of memories of the past," says 37-year-old Yang Weon-Jeong, a mother to two elementary-school children who are currently on vacation. "The quality and the prices of the goods here are all very nice, but I would say that it's the warmth of the vendors, always trying to give us extra vegetables and fruits, that keeps me coming back. They remind me of the markets I used to go to as a child."
The marketplace has often been described as a portrait of the times, a place that paints with honesty and affection the stories of ordinary people and their day-to-day lives. Ilsanjang is no exception. Under its ever-changing array of tarps and stalls, we can find traces of our past and reflections of our present. The vendors and customers here do more than buy and sell goods -- they breathe new life into old traditions and promise a future where the old and new are treasured alike.
*Adapted from
Weekly Gonggam

Translated by Lee Seung-ah
Korea.net Staff Writer
Department Global Communication and Contents Division, Contact Us