Torch for PyeongChang World Winter Special Olympics 2013 lit in Athens
Jan 18, 2013
The Olympic torch for the PyeongChang Special Olympics World Winter Games 2013 has been lit in Athens, Greece ahead of the games in Korea.
On January 17, 30 ancient Greek high priestesses, including 15 with intellectual disabilities, performed a splendid group dance and the flame was lit using natural sunlight in Zappeion Hall, central Athens. The whole ceremony was broadcast live across Greece.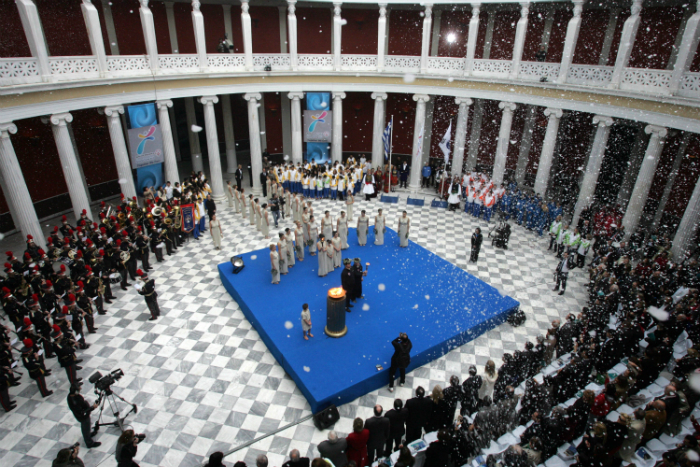 The flame-lighting ceremony was attended by a Korean delegate, including a torch runner, led by Na Kyung-won, chairwoman of the
PyeongChang Special Olympics World Winter Games 2013 Organizing Committee
. Kim Min-yeong, the first Korean torchbearer for the upcoming event, is a roller skater and swimmer and has been serving as a messenger of the Special Olympics in the East Asian region.
The nearly 800 attendees included chairman and CEO of the Special Olympics Timothy Shriver, Mayor Giorgos Kaminis of Athens, and other internationally influential figures.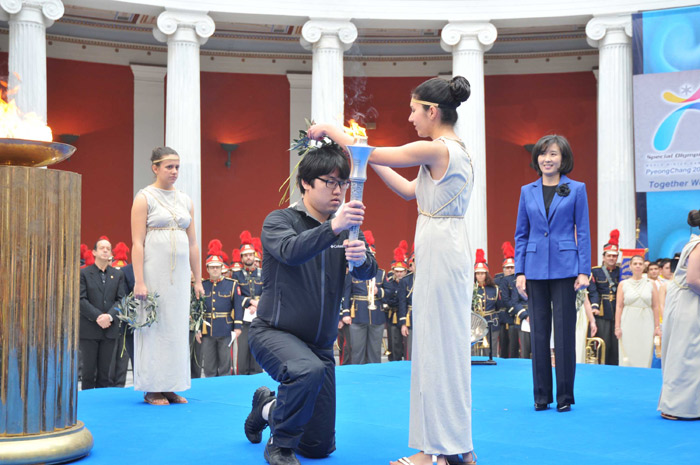 The Olympic torch will arrive in Gwanghwamun, central Seoul, on January 23 and then go on a tour of a total of 40 regions, including cities and counties, before reaching Pyeongchang, Gangwon-do (Gangwon Province), on January 29 to light up the eight-day international winter sports event for the intellectually disabled. Various cultural events and a parade will be held nationwide in Korea during the torch relay.
Zappeion Hall, the venue of the lighting ceremony, has been considered as a symbol of modern Olympics as the ceremony was held since the Minneapolis Special Olympics World Summer Games 1991.
By Yoon Sojung
arete@korea.kr
Department Global Communication and Contents Division, Contact Us