Summer nights of music, film, and more
Aug 10, 2012
At this time every year,
Chuncheon
gets crowded with people from all areas. Taking advantage of its geographic vicinity to Seoul, Chuncheon always tops the list of destinations for summer vacation. However, there is one more reason to visit Chuncheon in the first week of August. The city of mountains, lakes, and rivers turns into a stage for dancers.
Earlier this month on August 2, Chuncheon started to attract visitors to open the day-day
2012 Chuncheon Art Festival
. In addition to the party of Korean dancers from modern dance, Korean dance, and ballet at the opening, a series of impressive performances including Korean gugak combined with jazz and classical continue to excite festival attendees.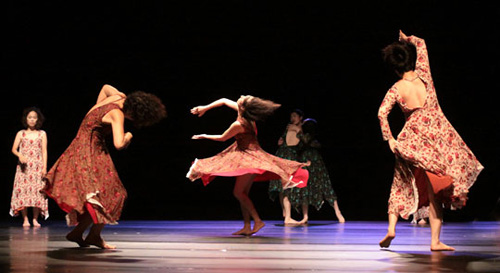 The Chuncheon Art Festival has been enjoying explosive popularity with tickets selling out every day. Now, just one day is left towards the end. But, you do not need to be sad even if you miss the chance tomorrow. There are still plenty of cultural vacation spots that await you to come.
A highlight of the Korean rock calendar: 2012 Incheon Pentaport Rock Festival
The
2012 Incheon Pentaport Rock Festival
is ready to sweep away the summer heat wave at
Gyeongin Ara Waterway
Incheon Terminal (Jeongseojin) from August 10 to 12.
The rock festival's reputation grows with each year, and the amount of festival-comers has been proportionally rising up. Last year, the number reached a record high at 54,000, proving it Korea's representative rock event. The festival has been recognized for its popularity by the Ministry of Culture, Sports and Tourism and is listed as one of Korea's best festivals. Everybody gets to know each other easily since they find one strong thing in common: music. Their eyes are pinned at the stage, no matter whether they are standing under the burning sun all day or even in torrential downpour.
The name of 'Penta-port' came from Incheon's new city development plan which incorporates five types of ports: airport, seaport, and teleport, as well as business-port and leisure-port. It has been less known that Incheon is the region where Korean rock culture originated from early in the 1980s to the '90s, producing many indie bands even before Hongdae gained popularity.
The festival will be attended by over 50 rock groups, each of which has their own typical characteristics. The national backgrounds of the groups are diverse, coming from England, China, Japan, France, Taiwan, Thailand, Indonesia, Canada, and Sweden. This is the chance to meet a variety of international rock bands performing right in front of you.
The line-up includes legendary Korean rock group Baekdoosan, well-known for their guitar skill that is no match to any young groups. Also, the stage will be dominated by heavy rock band Gate Flowers, funk band Icy Cider, and Windy City who performs reggae, a rare genre in Korea.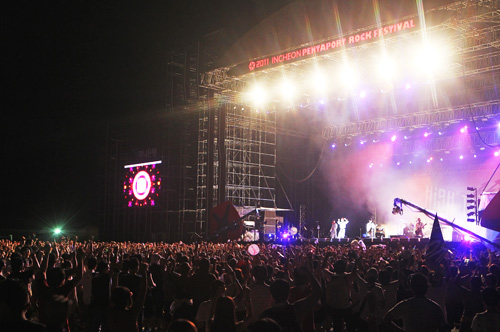 Admission tickets for this three-day festival are available at TicketPark or reachable through the information center at 1544-1555. Last-minute tickets can also be purchased on site upon arrival. A one-day pass costs around 77,000 - 88,000 won, a two-day pass at 132,000 - 143,000 won, and a 165,000 won ticket lets you spend all day long at the venue during the whole festival.
Here is a travel tip for those who take public transportation. Jeongseojin, the main event venue, can be best approached by
AREX
(Airport Railroad Express), from Geomam Station. From there, it still takes about 15 minutes to get there, so the organizing committee operates shuttle buses that can accommodate as many as 45 passengers every 30 minutes. As well, the operation hours of rail express trains back to Seoul will be extended till 1:00 a.m. for the comfort of the visitors.
Mix of Film, Music and Nature, Jecheon International Music & Film Festival
Full of fun programs with creative concepts, the Jecheon International Music & Film Festival has been garnering rave reviews each year.
Popular actress Kim So-eun arrives at the Jecheon International Music & Film Festival (photo: Yonhap News).
"This year's event was designed to break the usual customs of film festivals, getting rid of big ceremonies for festival-goers who feel tired of the conventions," explained someone at the JIMFF.
The films screened at the festival are selected based on the soundtrack, which itself could be the main source for the story of the film or featured within the film and contributing to the film's success. The first film screened at the opening will be Searching for Sugar Man, a documentary about Sixto Rodriguez, an iconic American folk singer from the 1970s who had never been exposed in the spotlight but happened to sell millions of albums when his songs reached South Africa. "I hope you're able to see this film," says Roger Ebert, film critic for the Chicago Sun-Times. "You deserve to. And yes, it exists because we need for it to."
One more element to add to the excitement for the festival is the campsite established in the neighborhood of the festival venue. Now, it relieves visitors' concerns of last year caused by an insufficient amount of accommodation facilities. The outdoor campground also provides a stage for young new musicians and nearby JIMFF Camp Stage is also set to open the program One Summer Night. The campsite costs 32,000 won per night. For more information, visit the official
JIMFF
website.
By Lee Seung-ah
Korea.net Staff Writer
Featured Topics
http://www.korea.net/NewsFocus/Travel/view?articleId=101817
URL Copy
Department Global Communication and Contents Division, Contact Us