Spring flowers, festivals woo tourists around Korea
Mar 15, 2013
Yellow, pink, red, or white, Korea is tinted in the vivid colors of spring. Spring flowers like azaleas and forsythias, known as the herald of spring in Korea, slowly began to bloom in the southern part of the country after a long, cold winter. Regional governments are busy preparing for festivals to welcome the spring flowers at scenic locations all across the peninsula.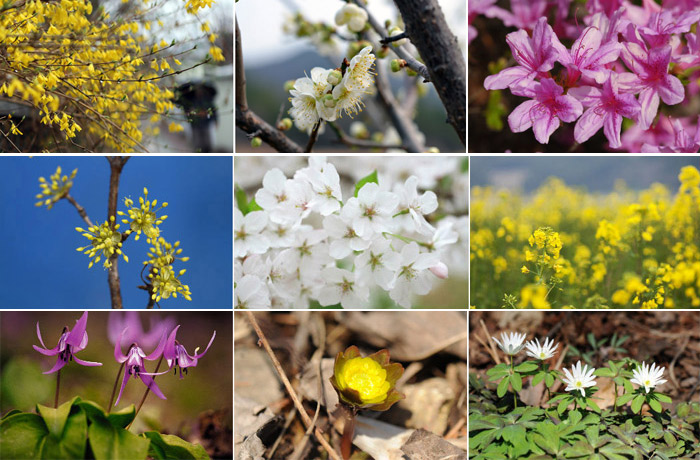 In Jeollanam-do (South Jeolla Province),
Gwangyang International Maehwa Festival
will be held from March 23 to 31. The city of Gwangyang will be covered with maehwa (also known as ume or apricot flower) during the nine-day festival which marks in its 16th year. Taking a simple stroll down a flower road will help visitors relish the mood of spring. At the festival, visitors can learn about the fruit of maehwa which is called maesil, also known as plum or apricot. Koreans consider maesil an important food ingredient and use them in a variety of foods ranging from pickles, kimchi, and vinegar to jam, juice, and alcohol; they even use maesil extract to stop diarrhea and help digestion as a folk remedy. Children and couples can enjoy the various programs, which include concerts, Nanta! (a non-verbal percussion musical) performance, a marathon, a bicycle race, a photo exhibition, a cooking contest, and local specialty tasting events.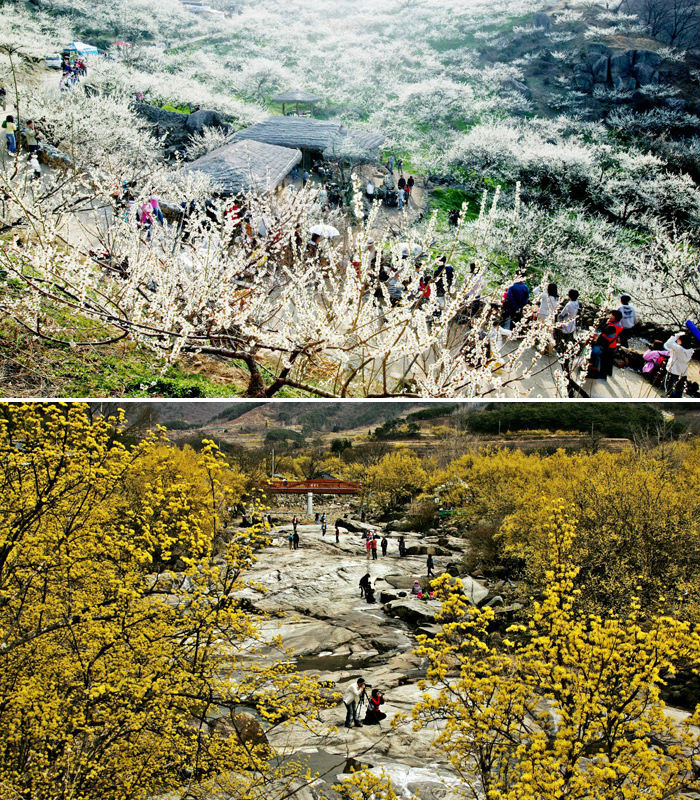 To see the spring blossoms, visit Uiseong in Gyeongsangbuk-do (North Gyeongsang Province) or Gurye in Jeollanam-do (South Jeolla Province), where festivals will be held for cornelian cherry flowers. Each of the two cities will host cornelian cherry flower festivals starting on March 29. In Uiseong, visitors can fully enjoy the scents of spring in the night walk program which will be held for ten days on the festival's flower road until April 7. Other programs will include a mountaineering contest and local specialty tasting events with cornelian cherries.
In Gurye, the festival will be held for three days until March 31. The annual festival which marks its 14th year attracted about 800,000 tourists over three days last year. This year's festival is expected to be held when the cornelian cherries reach peak blossom, according to a PR employee from Gurye County. "Even if you can't time your trip for the peak bloom, you will still have enough time for sightseeing as cornelian cherry flowers remain in full bloom for more than a month," said the county staffer.

On April 1, Jinhae Gunhang Cherry Blossom Festival, the largest cherry blossom festival in Korea, will be held for ten days in Jinhae District in Changwon City, Gyeongsangnam-do (South Gyeongsang Province). The must-go spots of the festival include Gyeonghwa Station and Yeojwacheon (Yeojwa Stream). Last year, CNN Travel selected Gyeonghwa Station as one of the "50 beautiful places to visit in Korea." To see the full list, click here. One of the famous photogenic spots in Jinhae is a bridge along with a 1.5-kilometer-long flower canopy on Yeojwacheon, popular with tourists and seen in many famous movies and TV dramas shot on location. The blossom road of the naval port and the Korea Navy Academy are also popular tourist attractions.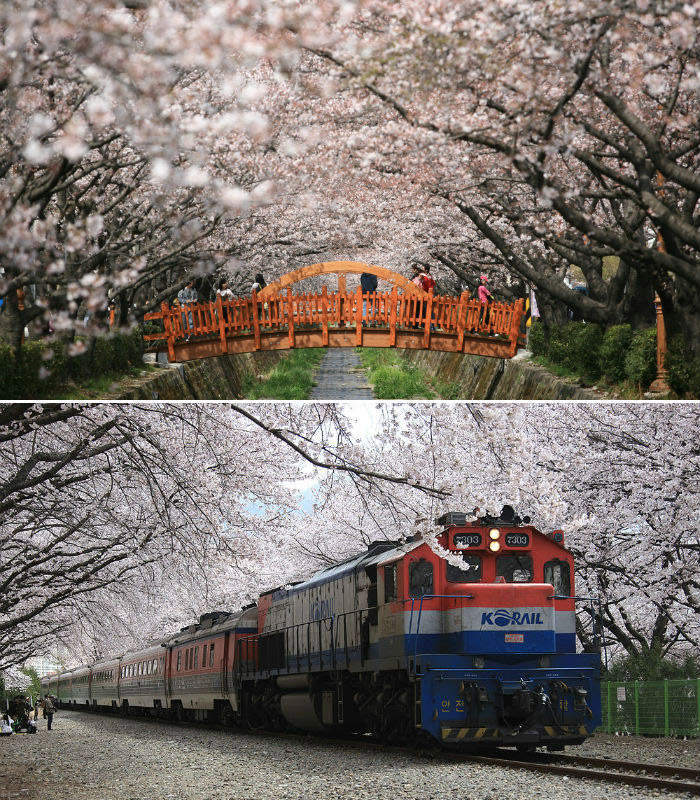 Korail Tourism Development recently announced that it will run two-day train travel packages which will depart from Seoul Station for the selected festival venues on March 22 and March 29. The train for Gwangyang will depart at 11:35 p.m. and the train for Jinhae leaves at 7:30 a.m. For more information, visit the homepage of Korail or Korail Tourism Development.

In April, Jeju Island will be bustling with both overseas tourists and domestic travelers for Seogwipo Rape Flower International Walking Festival on April 5-7. Festival visitors can enjoy both the scenic beauty of the island decorated with rape flowers and the beach and learn about its history while walking around Mount Sanbang on courses 8, 9, and 10 of the island's famous Olle trails.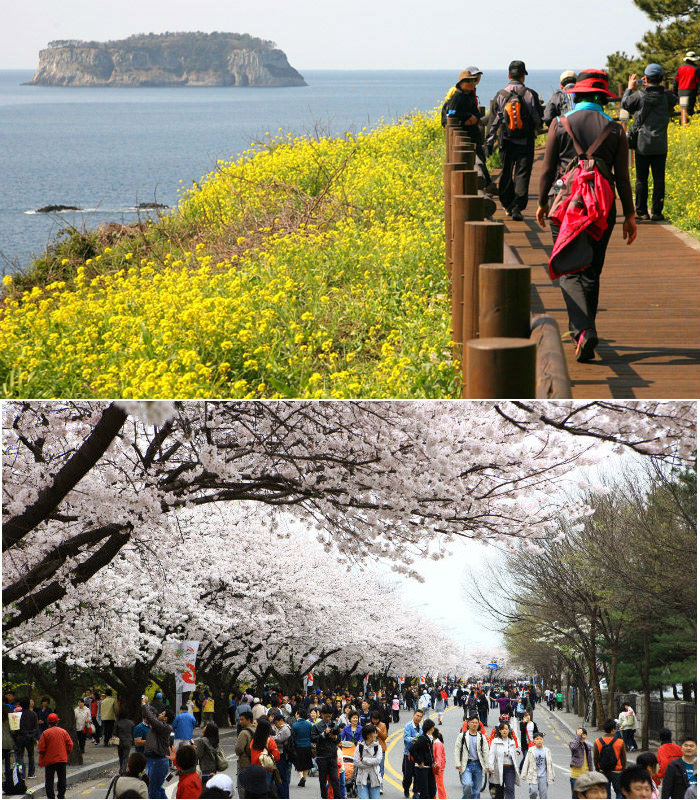 April will be the peak season for flowers in Seoul and Gyeonggi-do (Gyeonggi Province) as forsythias are expected to begin blossoming in late March and early April, according to the Korea Meteorological Administration. The state meteorological institute predicted that spring flowers will reach peak bloom in mid-April. Yeouido, one of the most famous cherry blossom spots in Seoul, will host this year's Hangang Yeouido Spring Flower Festival from April 12 to 18.

Universities located all across Seoul are also good places to see the spring flowers. One of the most famous spots is Kyunghee University in Dongdaemun District. The Korea Tourism Organization (KTO) listed this university as one of "best spring-time destinations" in its "Travel Highlights" guide released online in 2011. To see the full list, click here. If lucky, you might spot actors or actresses filming or shooting a TV drama on campus.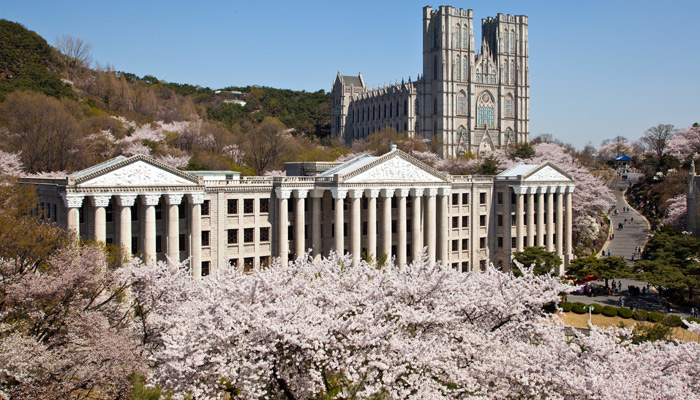 Parks and gardens are also good destinations for enjoying flowers. "Adonis and starwort are coming into bloom and cornelian cherry flowers are beginning to blossom these days in Namsam Park," said Han Sang-mi of Yongsan District Office in Seoul. "Thanks to the warm weather, more people visit the park where forsythias and azaleas come into blossom in early April."

The Gyeonggi-do area surrounding the capital also has many gardens for enjoying spring flowers. One of them is the Garden of Morning Calm located in Gapyeong. Adonis and crocus come into bloom in this garden, which plans to host a spring flower festival in mid-April, according to garden management staff.

Another popular garden is the Korea National Arboretum, also known as Gwangneung Forest, located in Pocheon. "Forsythias, azaleas and cornelian cherry flowers will come into bloom in early April," said Lee Chunghee from Department of Horticulture & Gardening of the Korea National Arboretum.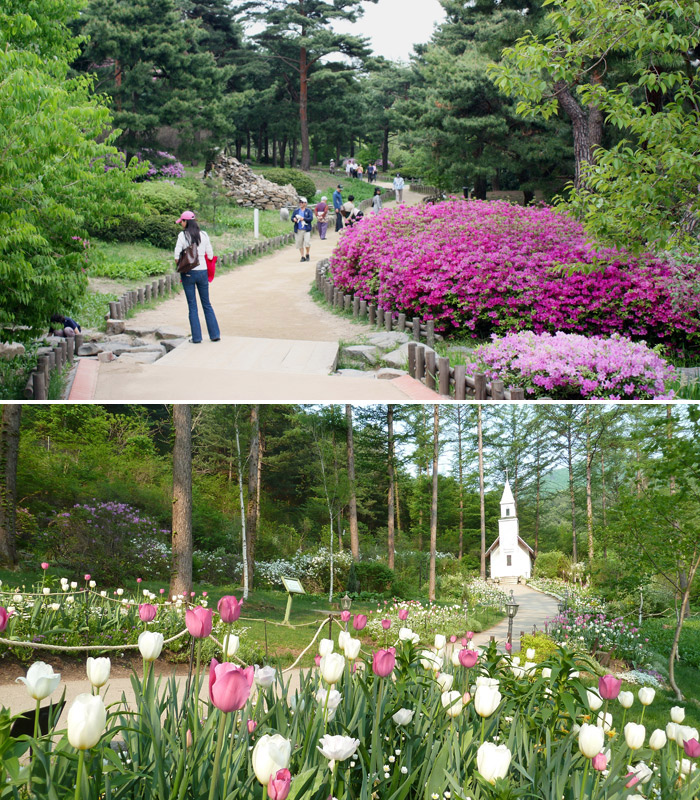 Thanks to the popularity of Korea's spring flower festivals, a Hong Kong travel weekly magazine even released a special publication on cherry blossom tourism in Korea. The Weekend Weekly introduced detailed information about Korea's many spring flower festivals, including cherry blossom events, scheduled to be held in Seoul in an 80-page bonus book published on March 11. This magazine also reported on flower festivals in cities across the peninsula such as Jinhae, Jeju Island, and Jecheon in Chungcheongbuk-do (North Chungcheong Province) in its edition published on February 25.

For more information about spring flower festivals areas across Korea and famous flower viewing spots, call Korea Travel Phone (82-2-1330) which provides language services in Korean, English, Chinese, and Japanese around the clock.

By Yoon Sojung
arete@korea.kr

Featured Topics
http://www.korea.net/NewsFocus/Travel/view?articleId=106378
URL Copy
Department Global Communication and Contents Division , Contact Us