Seocheon blooms with camellias
Mar 05, 2012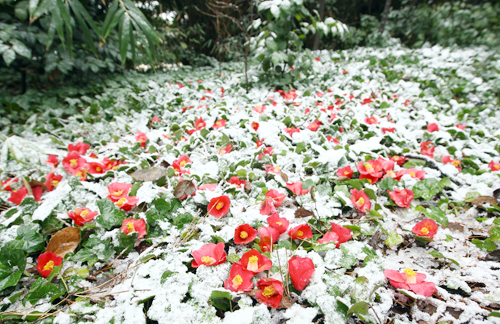 Like round sindoors applied on the cheeks and forehead of a newly minted bride, camellias, with their red petals adorning yellow pistils, are flowers of purity and simplicity. They bloom from as early as November and carry on through February and March to the end of April. Camellias are winterflowering, but they could just as well be springflowering for blooming in February and March, the traditional month of spring. The season of renewal is upon Seocheon as early as late February as camellia shoots start to bud in this cozy little town huddled on the western coast of South Chungcheong Province.
A stroll to the top of a wooden staircase laid at the far end of a road next to the Seocheon Thermal Power Plant ringwall not far from Maryang Port rewards one with a view to a grove of camellia trees thought to have formed some 500 years ago. Designated as a natural monument, the grove of about 85 trees are not at all tall and sit widely apart like the ribs of a fan. 500 years is a long time. Could it have been the harsh winter winds blowing in from the West Sea year after year that have taken their toll?
Maryang Port is just as well-known for its sunset as it is for the camellias. The panoramic coastline that comes into view from the center of the grove opens up to the small picturesque Orak Island in the distance and the fish trawlers out at sea. And the red sun behind them slowly sinks into the Yellow Sea turning the skies into a bright golden hue. The site is more beautiful than Monet's Impression, Sunrise.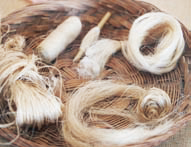 Seocheon, known for its beautiful Riasis Coastline, has its share of tourist attractions. A favorite among Seocheon's foreign visitors is the Mount Han Ramie Yarn Workshop. Ramie yarn from Mount Han is recognized as the undisputed champion of ramie yarn for its superior quality and fineness.

The Mount Han Ramie Yarn Workshop is where the local residents gather in small groups to weave ramie yarn in addition to exhibiting its related history from both past and present. The entire process of ramie yarn weaving is on display.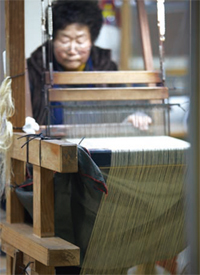 "Clothes made from ramie cloth always look new even after repeated washing, and they help you keep cool and breezy in the summertime. There's no need for air-conditioning when you're in ramie." Mrs. Jo Jin-soon, a grandmother of two who makes yarn at the Workshop, said many foreign visitors find the ramie weaving to be fascinating and that they go about making many purchases. "Foreign visitors seem to know that ramie clothes are good," she said with a big smile. An average roll used for clothes making costs anywhere between KRW 600,000 and 800,000. One roll can produce up to two men's shirts and three women's shirts, but the cost cannot be said to be unreasonably high since it takes no less than two whole months to weave the yarn into cloth from start to finish.

Across from the Mount Han Ramie Yarn Museum is the Intangible Cultural Asset Complex. Behind the complex is a distillery for sogokju, a rice wine that is said to have been enjoyed by the Royal Family of the Kingdom of Baekjae. As a rice wine that is known to have been traditionally prepared by distillers wearing all white so as to mourn the demise of the Kingdom of Baekjae, sogokju is distilled with steamed glutinous rice for 100 days. Sogokju is also widely called the 'heavy bottom wine' for even the modest tastings done by wives leaves them daunted and on their behinds. Because it is made near Mount Han, it is called Mount Han Sogokju.

A little ways from Mount Han Ramie Yarn Workshop opens up to the Sinsung Road Field of Reeds. As the site for the blockbuster hit film 'JSA' (Joint Security Area), the Sinsung Road Field of Reeds is 200 meters wide and stretches for 1 km, for a total area of 100,000 pyeong or approximately 33,000 square meters. It is one of only four such fields in South Korea. Laid in between the reeds that stand taller than the average person is a boardwalk and wooden decks at various intervals that hang famous lines of poetry. It soothes the heart when the wind blows and the reeds whistle and sway.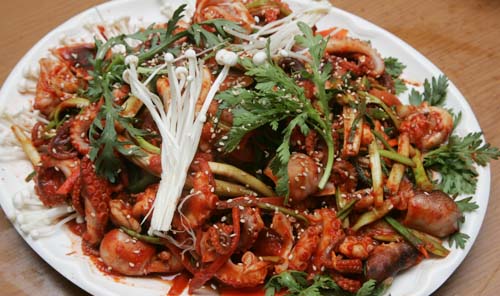 Seafood is plentiful in Seocheon for it lies near an established estuary. Every season of the year produces its own colorful milieu of offerings from the sea, but nothing tops the menu in the spring like the little octopus. For obvious reasons, the little octopus is smaller than big and medium-sized octopuses, but what it is known for more than its size is for its power-giving properties. The little ones are famous for being an aphrodesiac. They are especially succulent in the spring, and are more chewy and savory than other times of the year. Restaurants along Maryang and Hongwon Ports all have the little octopuses on their menus.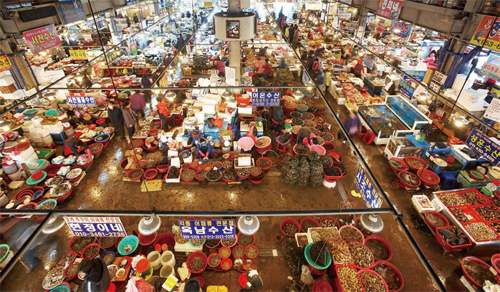 A tour of Seocheon's traditional outdoor market reveals all the seafood on offer from the ocean nearby, including the flatfish, the gaper, the octopus (big, medium, and little), the thornback, horse and baby clams, and many others with strange names and funny faces.

When camellia shoots start to bud at the end of the harshest winter months, spring has surely sprung in Seocheon. Slowly the camellia grove turns red and the little octopuses with full bellies begin to surface. Spring in Seocheon is a delight to the eyes and the palate.

*Article from Korea Magazine (February 2012)
Department Global Communication and Contents Division, Contact Us